"Aleksandr Lomov represents a famous Russian School of teaching and performance and I am very happy to recommend him as a piano teacher." - Deirdre Doyle, Professor of piano, Head of piano board of Royal Irish Academy of Music.
"After six years of piano study and the attainment of the 7th grade I can say that all of the above apply to myself: wrong hand-training, stiff fingers. I still could not play the tunes I wanted. Aleksandr's teaching is completely different from my 3 previous teachers and after a few lessons I can feel a great improvement in my hand movement, being easier and faster. Aleksandr has introduced a wide program of music including jazz with improvisation. I only wish I had Mr. Lomov as my teacher since I have started to play piano for I feel I would have had much greater benefit from my 6 years of playing." - Malachy O'Rourke, Lecturer in the University.
"My 3 children who took grades 5, 5 and 7 passed with honours in RIAM this year. I would highly recommend Mr. Lomov as really professional musician and a piano teacher." - Maria O'C., Doctor.
"I have known Aleksandr Lomov as a friend and teacher for over 2 years. His arrival in Ireland and a chance introduction has transformed my appreciation, understanding and ability to play music on the piano. I would have no hesitation in recommending Mr. Lomov as the best teacher I have had the privilege to work with." - Maria Biggs.
"Since Aleksandr Lomov has taken our daughter for piano lessons she has thrived at her music because he knows his subject and works at our daughter's own speed. He purposefully picks music that appeals to her and her age group. She is very happy with Aleksandr and always look forward to her music lessons." - Jeanette Cloak, Teacher.
"Having studied piano for more that 10 years I find Mr Lomov's teaching skills and professional skills on a high level. Apart from Aleksandr's unique teaching methods, he has a very good rapport with people and a pleasant manner. My children look forward to their lessons with him." - Cathy Grain, University Graduate.
"My daughter was reluctant beginner, but a few weeks later she has been practicing herself. Mr. Lomov has made a great success." - Veronic, Doctor.
"I think that we are lucky that such a skilful musician and teacher has decided to stay in Ireland." - Maria O'Hara.
"Ms. Nadia Lomova has been teaching my three children piano for the past number of years. I have two boys and a girl and each of them has developed a love of music through Nadia Lomova. My six-year-old girl wants longer lessons!
Nadia Lomova has a very good way with children and we make the effort to travel to Prima Music School for this reason, even though we could find teachers locally and in the various music schools in the City Centre of Dublin.
I have no hesitation in recommending Nadia for any musical post that she applies for. She has a gift with children, is very patient but firm, and technically outstanding. She would be an asset to you and I recommend her most highly." - Cathy Graham.
"I have known Nadia Lomova for the past three years. During that time I have found her to be a highly professional and dedicated music teacher. She loves her subject and this comes across in her teaching of it.
At a personal level, Nadia gets on well with people and is caring and understanding and has a great sense of humour. I would have no hesitation in recommending Nadia as an excellent teacher of music." - Patricia C., B.A. Hon. Dip. Ed."
"Mrs Lomova has been teaching my three children for the last few years. They look forward to their class each week and really enjoy it. I feel they are making excellent progress.
Mrs Lomova has encouraged them to participate in school concerts and they have enjoyed performing at these. This is due to her interest and enthusiasm.
I am very happy to recommend her to others and have already done so in the past." - Eilis H. B.Ed. (Hons) L.R.S.H. (Organ), L.T.C.L. (Piano).
Here is what our students say about us.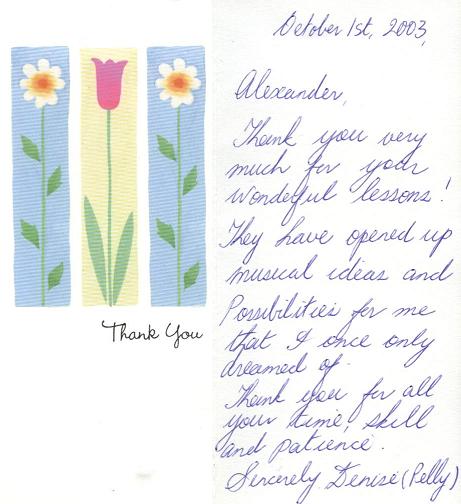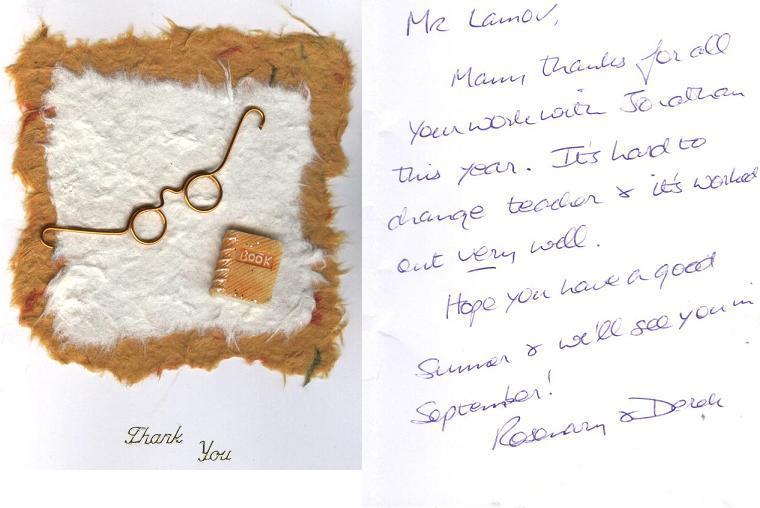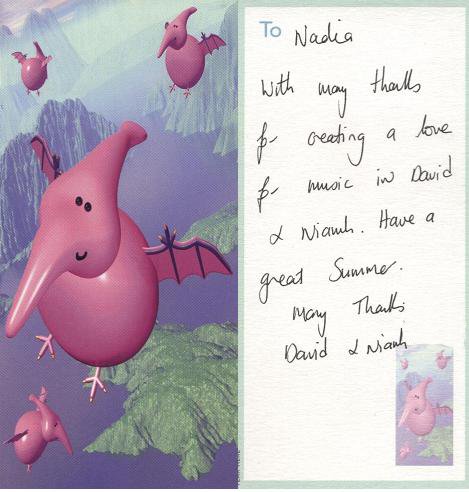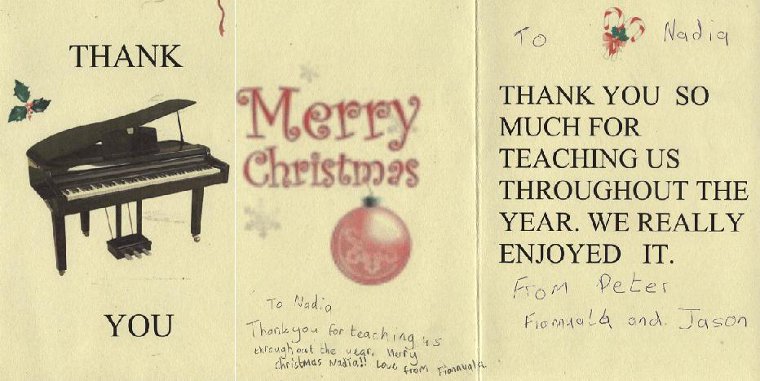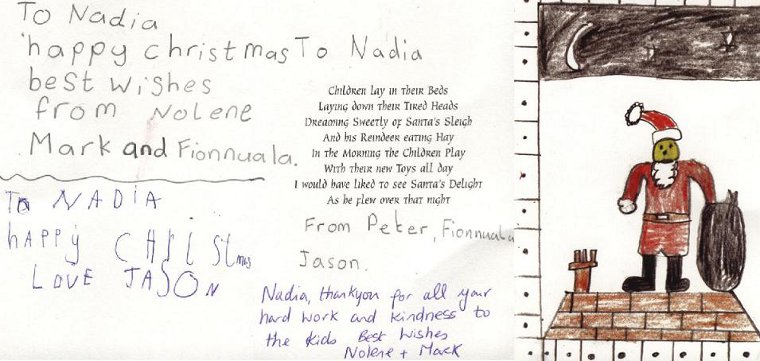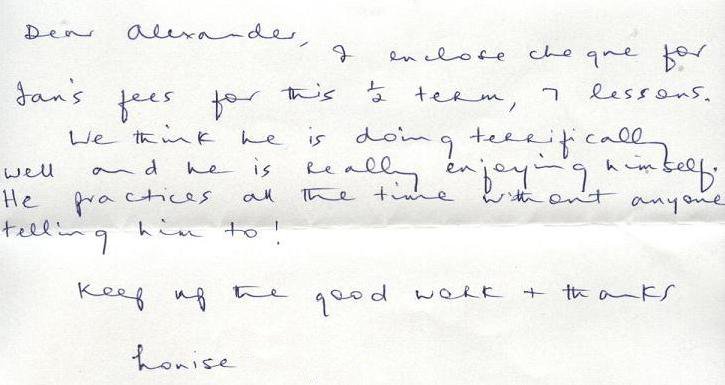 For personal references, the phone numbers are available upon request.